Since the last post a lot of progress has been made on many different areas. JK3D is selling its first products actively, I am focused on shifting some designs to a more production level methodology/configurations/designs. I've been working more on resin printed parts for production level components, but also for various hobby items. This post is going to cover a lot!
First : One year of the pandemic
You've heard a lot about the anniversaries we are seeing now of various shutdowns, lockdowns, and all the changes that happened to the world in the last year… its been quite a time. On the 19th, a year and a day since everything went sideways in Denver I received my fist dose of the vaccine. I looked back and one year before I posted this blog post about adapting to the WFH life for everyone who was now experiencing that change.
I was also gearing up to run my printer 24×7 to make urgently needed (at that time) PPE for Colorado health providers. I ripped through 2KG+ of PETG in days to make as many of these halos as I could. (and used another 6KG printing well over a thousand face mask straps after this through the spring)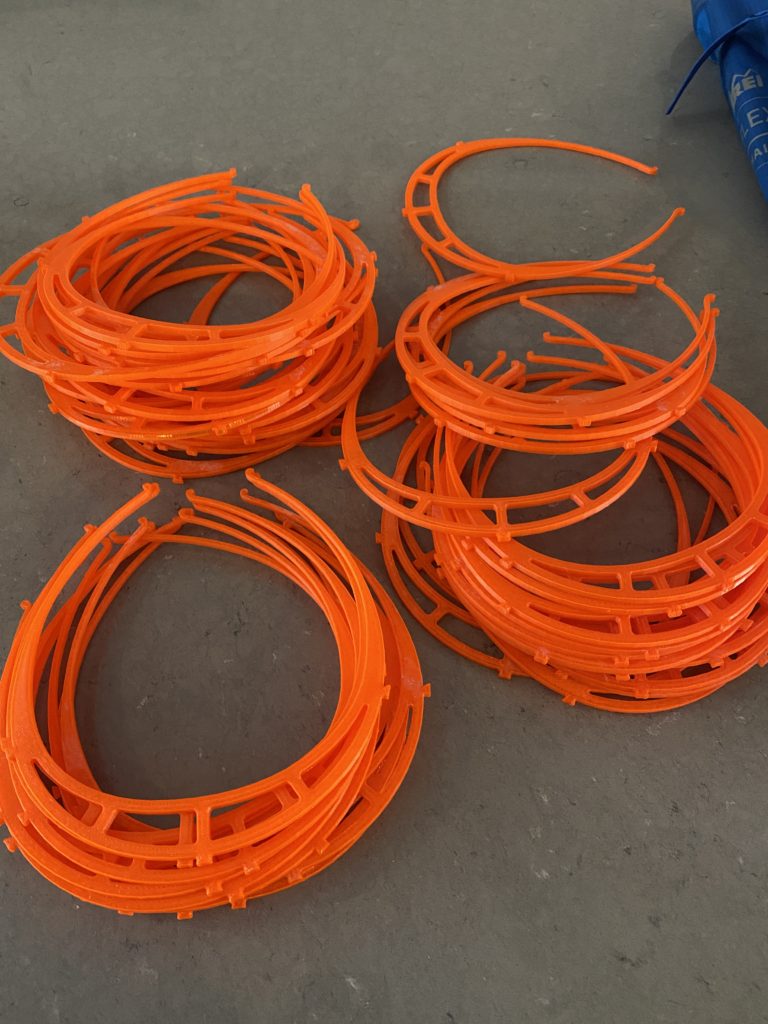 Getting the vaccine this last weekend, and all the looking back we are all doing on the last year gives some very interesting perspectives on society and ourselves. There are good things to take from the pandemic and good habits to continue. One of the key things I am taking from this is being sure to keep in touch with people who don't live near, or you don't see often.
I am sure there is going to be a lot more remembrance and reflection on the last year coming up. Now… back onto current happenings!
JK3D.us up and selling – Lens Protectors for motorsports Dash cams!
Last week I noticed Innovv has launched some new cameras that can use some designs I already had done for my Innovv K2 camera. Specifically mounts and camera lens protectors. I rushed last week to refine some designs, update them, and work on a printing process to mass produce lens protectors for 25mm bullet cameras (like the cameras the Innovv C5, K2, K3, and K5 cameras all use). https://jk3d.us/product/25mm_dashcam_lensprotector/
The updated designs were slightly more robust in their structure, and had a place for me to laser etch the JK3D logo on the side. The protector body itself is a complex multi-material print with TPU printed in the structure to hold the lens in place.
I produced about 40 of the bodies and the rear TPU sleeve in a few days, but I only had 5 glass lenses on hand (all from buying them as backups for my original lens protector). I sold all 5 on JK3D in a matter of hours on Saturday 3/20 and a few of the ones without any glass (people can source their own off Ebay… like I do). I have 40+ glass and some sapphire lenses inbound and getting a few deliveries over the next week/months).
I am actively refining designs I made in the past for motorsports use, and getting them ready for market. Ensuring the products are able to be produced reliably, consistently, at high quality and in quantity is the focus right now.
JK3D back end work
One of the key things I spent a lot of the last weekend on was getting the order processing system working well and adding in customer focused features like inventory notifications, and more descriptive explanations for out of stock and restock timelines.
I also had to work hard on getting shipping stuff sorted. Turns out the plugins I was using were calculating shipping wrong so I took a small hit on the shipping costs for the first orders, but that is sorted now and I should be able to handle international shipping easily as well. It's been a real trial by fire getting it all working as expected this weekend!
Final printer upgrades to enable consistent, long term production use!
In my last post I mentioned the fact I ordered some custom prints done by Shapeways with HP Multijet Fusion PA12/GB material. Well I received the parts in last week and installed them. These are brutally strong glass embedded nylon prints that have heat deflection temps and such FAR beyond most other materials I can print with easily.
I had the mount on the Tool 0 (left hand extruder) fail a few weeks ago again due to heat distortion. I figure I could print the mount solid and avoid it, but in the end going with a permanent solution like the MultiJet Fusion materials was the way to go. I had to replace the left mount temporarily with a defective but functional test print I made weeks ago. I was happy to get rid of it.
These new mounts look and feel like they are chiseled from marble or granite. They are very strong, with virtually no flex, and while they are heavier than my CF-Nylon, they will work good for the long haul. I also replaced the CF-Nylon wire guides with some higher resolution clear ABS-Like resin printed boxes. This was just for fun as I wanted to test out some resin printing settings.
In the end the printer is now setup for long term use with minimal recalibration needs. Down the road I may also replace the Y Axis mounts as they could potentially use it, but its not needed at this point.
Ventilation for the Resin printer and Laser cutter.
For a while I've been working on ways to more effectively vent the small room my K40 laser cutter resides in and now where the resin cutter resides. Before I had a duct I would move out the door for the laser cutter, but I came up with a better idea to use an existing room vent as the universal vent for the room. The existing wall vent had a noisy low CFM fan and I figured I could adapt my 4″ duct fan to that vent. The 4″ ducted fan moves 3x the air flow that the wall fan did.
First step was to make an adapter place to convert the 6″ wall hole, to a 4″ duct. Then design a mount for the 4″ ducted fan. I printed a the large wall mount plate in some PLA+ I had in the printer already, and the rest in PETG. The ceiling mount gives some solid vibration isolation from the fan and keeps it aligned nicely to the duct.
I then printed a large Y duct for the fan to allow me to control airflow from the printer/laser cutter/room. The Y duct took close to 8 hours to print, its 280mm tall, but designed to use very few supports (only on the interface to the fan and the clamp I have.)
Once that was done I wanted to setup some airflow management valves, and a way to easily swap what printer/cutter is connected to the vent. The room will always have a vent to pull air out, but the other leg of the Y goes to one of the two devices at any given time.
I found a 4″ butterfly valve on Thingiverse and used that design for the valves. I tested some Matterhackers Build resin (which is supposed to be very difficult to print with, but its very low odor and largely safe to work with) to print the orange butterfly valve components, and printed the rest in clear PETG. I designed an adapter to connect the valve to the Y duct, and then also printed clamps and a handle system to let me swap the other leg of the Y easier.
This was a pretty fast project, it took far more time to print all the components than it did to design everything. I went through well over 1.5KG of filament to do this, but now the venting of the laser cutter is very nice, and I can work near the resin printers without a VOC rated mask easily.
Best part of the project, I needed to buy nothing for it… I re-used all the hardware, ceiling hooks, ducting, etc… from the old setup, and just printed what I needed.
Finished my Water Rower Pi project
Last post I mentioned and showed some pics of a project I was starting to Ant+ Enable my water rower machine. There is an existing project that someone else was doing for the code for it, but I wanted to get a mount situated to help the project. So I designed from scratch a resin printed case for the stack of the Pi Zero W, Ethernet/USB hat, and OLED hat. It took a number of iterations but in the end it helped me refine some printing on the resin printer, but I ended up with a nice case. I posted the case on Thingiverse Here for others in the project to use.
After some trial and error I got it all to work with my Garmin Forerunner 945, after a firmware update to the watch. Now I can stream Power/Distance/Stroke Intervals and other stats direct from the Water Rower to the watch.
Motorcycle stuff coming up next.
So while I am deep into the JK3D topics, refining past designs and designing new products to bring to market… I am also in the middle of sorting out my plans for motorcycle stuff for the summer.
Suspension:
One lacking aspect of the Yamaha Tracer 900GT was the suspension when fully loaded, and was likely the reason for the the oil pan getting damaged so easily last fall. So I just sent the deposit to order a full set of Ohlins suspension for the bike. NIX30 forks, and SX46 (With remote res, and preload) rear shock. All tuned for my goal of longer loaded multiday/week trips coming up.
Modifications:
One thing I am still working on is more storage on the bike under the passenger seat. I am pondering cutting out the base of the seat to fit air pumps and other things into it… Trying to work out the risks of doing that and I want to source a backup stock seat before i start hacking on the one that came with the bike.
I am also looking at replacing the signal bulbs or the signals themselves with LEDs… after having the hazards on, on the side of the road and seeing the battery die in a few hours… that gave me pause on how much power the lights can take in an emergency.
Destinations:
I was seriously looking at Denver -> Juneau Alaska this summer. Now that I am 1 shot into my COVID Vaccine routine it looked likely. But Canada and the US both have some strict border restrictions currently, so I am going to probably keep around the lower 48 this summer. Trips down to see family in New Mexico, and areas around the Pacific NW, and Montana sound interesting… I am looking to put a lot of miles in this summer to refine my long distance riding setup and process. I would like to get the process refined where a 500 – 600 mile day is easily done on the bike for a week on end.
Maybe in 2022 or 2023 I will make it to AK… Once the pandemic at least gives some breathing room for it.
Vacation Days:
I have a lot of vacation (as everyone does right now) to use, and policy changes at my place of employment mean I need to burn essentially 2 extra weeks this summer. So I am heavily inclined to spend a lot of time on 2 wheels and on road trips with the wife this summer. I am expecting the roads to be absolutely clogged with others doing the same!