Well, 2020 is what it is… it conclusively sucks. Camping is a crap shoot as everyone else is out doing that, staying at home is getting very old, wild fires all over the west making the air so bad in Colorado that being outside/hiking is painful and makes me cough like I have COVID… etc… There are few redeeming things right now in the year of the Pandemic. Except for the fact I have a motorcycle primed and ready to get moving.
So why not get on the bike and GTFO of town? OK I think I will! But where to go? What to do? What is open? Can I stay in a hotel? Nothing is simple in a pandemic.
Limitations/Risks in a pandemic
No hanging at bars with the locals – this is one of my favorite parts of all those other trips. Traveling to an area I am unfamiliar with, and sitting with some locals and hearing what the deal is. I've had a blast so many nights in random towns in the middle of nowhere (I'm looking at you Creede, Torrey (UT), Montrose, Cedaredge, and Parachute) Seriously this on its own almost made me bail from even considering a trip.
No museums/visitor centers – Plenty of places I want to go involve a significant amount of history, but in most cases those visitor centers/museums are all closed due to COVID still.
Quarantine travel restrictions – Some states have strict quarantine/travel restrictions. New Mexico is one of them, which limits what I can do when I get into that state.
No In-Restaurant dining – Now I know many restaurants are open for sitting inside, but I generally wont be to avoid that exposure risk. It was nice on past trips being able to stop and get some food at a local cafe and chat with the proprietor about the area, business, etc… I will try to make it work as much I can while being safe.
Getting hurt and needing emergency services – There is no higher exposure or risk than needing assistance from strangers/EMT. So … I am going to try and avoid that need.
With all that said… the roads still work, gas stations are still open, and the sun still shines.
Learning from past trips
I've done thousands of miles around the southwest on previous motorcycle trips but I haven't done much in the last 5 years or so. Due to various big events normally happening in this timeframe previous years (buying a house, and 3 of the last 4 years doing multiweek trips to Europe).

I am digging into my logs, info, planning and such from past trips to figure out how I am going to plan this. Some of the past trips are:
2010 – 800mi Camping Trip in Wisconsin and Apostle Islands
2011 – 1600mi Trip around Western Colorado, camping most of the way. (Video from the trip)
2012 – 2000mi Trip down to South Utah and Jerome, AZ (hauled camping gear but never used it) (Video of the trip)
2014 – 1800mi Trip to Utah/SLC (Hauled camping gear but again never used it) (Video of the trip)
2015 – 700mi Trip Backpacking, and Exploring Grand Mesa CO, and a nuclear test site! (Backpacking gear on the bike no camping while on the bike though) (Video of the trip)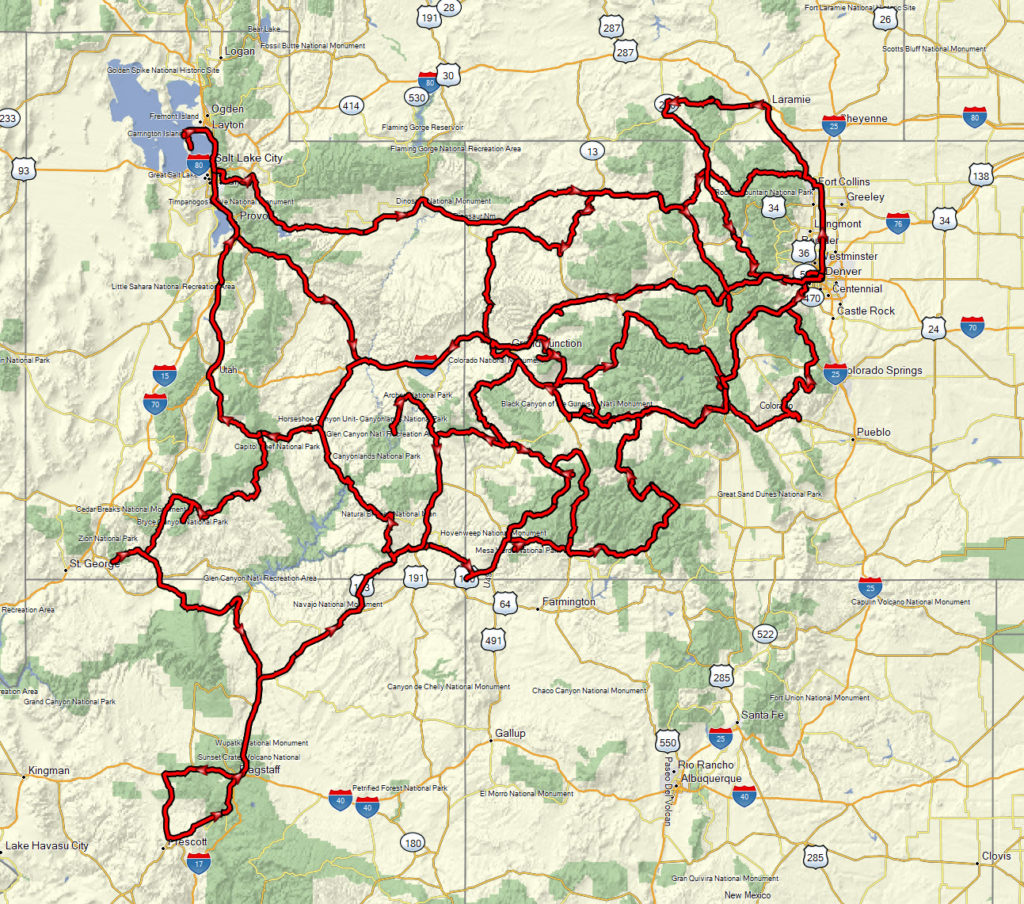 The last time I camped while on the motorcycle was back in 2011, yet I have done thousands of miles with camping gear packed on the bike and never used it. Turns out after doing 300 – 400mi days camping just doesn't sound that awesome back then, and it got me considering … do I want to be camping on these trips?
Also looking at how heavy the bike was loaded down – the Triumph was a pack mule, with the upgraded suspension it hauled 100# in luggage easily (actually handled better that way). The Yamaha is NOT setup to handle that kind of load on the stock suspension, not even close – fortunately my camping gear is half the weight now. So I need to look closely at what I want out of this trip, risks, rewards, and limitations of the motorcycle.
To Camp or Not?
In a pandemic year it kind of makes sense to camp. Stay away from people, places, lower my exposure. Already traveling on a motorcycle is a pretty low exposure means of travel, but the pandemic has me thinking of all the touch points and realities of camping on a 5-7 day motorcycle trip.
More frequent gas station stops than a car (less than every 200mi or couple hours for a break), this is the same for camping or not.
Showers needed (there is a lot of grime/sweat/nastiness from riding in hot desert sun for days on end), so is using a shared shower at a KOA reasonable? Shared bathrooms?
Water availability – traveling in the south west at this time of year is risky for water being available in streams/creeks near desert camping areas
Carrying an additional 20-30# in gear to camp, and more clothes to avoid using a laundromat.
Vs Motels/Hotels
More human interaction at the front desk, but if its an external door hotel/motel room that should be minimized.
Need to sterilize high touch surfaces in the hotel room
Still pack a down ultralight backpacking quilt as a comforter to not use the hotel issued one.
Pack a few pillow cases to cover the hotel ones.
Can pack less clothes and plan to do laundry in the hotel once or twice.
A place to eat dinner away from people and not sitting on a patio or on the motorcycle.
Private shower/restroom that has been sterilized/cleaned between people.
20-30# less clothes and gear.
I did a test ride with the motorcycle loaded up with the actual gear and some extra weight to simulate how heavy the bike would end up being.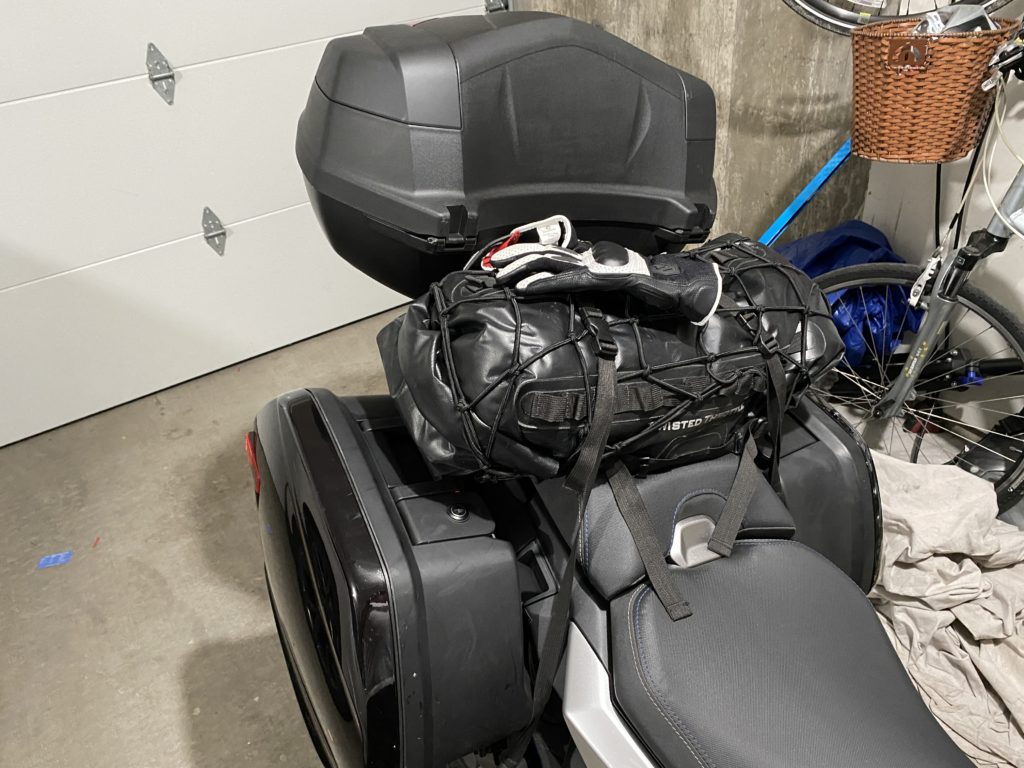 The dry bag on the rear seat has the tent, sleeping pad, stove, some food, and some of the other required things. An entire side case is full of the bare minimum of clothes for a 5 – 7 day trip avoiding doing laundry (which is a lot of weight). The other side case has my sleeping bag, and other important things for a long distance trip. The rear case is kept light with insulating layers, gloves, and my camera.
With the preload set all the way hard on the rear shock, the sag was close to 45% of the total shock travel… which is WAY beyond the 30% you should aim for, and means the front end may become light when the gas tank is empty… So the bike is overweight, and riding it, it felt soft and a bit unsure in corners (due to weight being more off the front than I would want). Over the winter I hope to get the suspension uprated for my weight and gear options, but it wont happen for this trip.
So… I am bailing on camping this trip and going to continue the tradition of not camping on these motorcycle trips, but this time not taking camping gear on a tour of the southwest.
So now, Where to go??
I've had multiple plans for various trips over the year that never happened… either I was not happy with the motorcycle (reason I sold it), or timing didnt work out. Well this year, I have nothing but time!
Go West/North? – I initially was going to go up to Idaho, around Idaho Falls and down through Utah. Well my route going that way was going to take me past a few wild fire areas now … and in general Idaho / Wyoming thinks COVID is a hoax, so … maybe not this year.
Go East? – I do actually want to spend some time exploring some areas in the plains/east of I-25 in Colorado, and specifically the south east portion of the state. I wasn't finding enough to fill a week on the road, and going to Oklahoma/Kansas seems less than interesting right now. I was thinking South Dakota, but after the Sturgis COVID rally… I am going to let that hot zone cool down a bit first.
South/ South West? – I had plans to go down to southern New Mexico in April… that obviously did not happen, but I am still enamored and interested in so much of the south west, that I want to go back there. Not as much smoke/fire, and a laundry list of places I want to visit with varied terrains and fun roads. *with the caution that most of the places I want to go… is just a drive through thing as nothing is really open* The time I am looking to go in Mid Sept 2020, should be peak leaf color as well! OK … Lets do this.
Back to the South West
I've had a bucket list of places I've wanted to visit in CO, AZ, UT, NM and NV. I can check a few of them off and recon for future trips for areas that are still closed down.
Silverton, CO – I've driven through Silverton a few times, but never stayed there. There are some interesting landmarks and history around there I want to explore. It's also a reasonable first day ride from Denver. Because the Durango to Silverton train isn't running this year, the town is hurting for tourists and if I can help the local economy a bit that is great.
Meteor Crater / Winslow, AZ – About 400 miles from Silverton is Winslow, AZ. On the old Rt 66, and Meteor Crater next door. The visitors center is not entirely open at the Crater, but itself… is a crater, and checking out one of the natural wonders in the south west outside sounds fun. I plan to try to stop at the Petrified Forest National park on the way as well.
Los Alamos, MN – Home to the Manhattan Project in the 40s, it is a small mountain town that also happens to have one of the largest/leading national laboratories in the US in it. The route to get there can be pretty boring or interesting coming in from the west as there are some super twisty mountain roads coming from Arizona. That's what I'll be doing. The lab has some open areas you can walk around/ride around, but the historic area in Los Alamos proper is where I will be staying and seeing the area. Most of the things I would want to see in Los Alamos are closed due to the pandemic, but still an interesting area to get a feel for.
Delores, CO – A spirited ride from NM to the SW Corner of CO will take me to Delores. I've ridden through Delores once before, but never from the south. There is a lot of railroad/train history in this small town, but more importantly it sets me up for a nice ride the next day.
Cedaredge, CO (via Gateway and the Paradox Valley) – This will be a ride I am really looking forward to, I am going to spend all day exploring around the Paradox Valley area for old mining operations I've been reading about, then cruise up one of my favorite roads in CO, the Delores River Canyon/Gateway Canyon and make my way to Delta, CO before heading up to Cedaredge. I've spent few other trips in Cedaredge and am looking forward to being back there. I am planning to stay another day there to explore the area a bit.
Home – Denver via Aspen/Independence Pass? – Its been 9 years since I first rode my motorcycle over independence pass, and that is the last time I've been over it on a bike. I am interested in taking that route also to avoid the burn scar/Glenwood Canyons which is rife with rocks slides and damage from the fire that just ravaged it. Not sure if I will go right to Denver to stay somewhere else on the way back.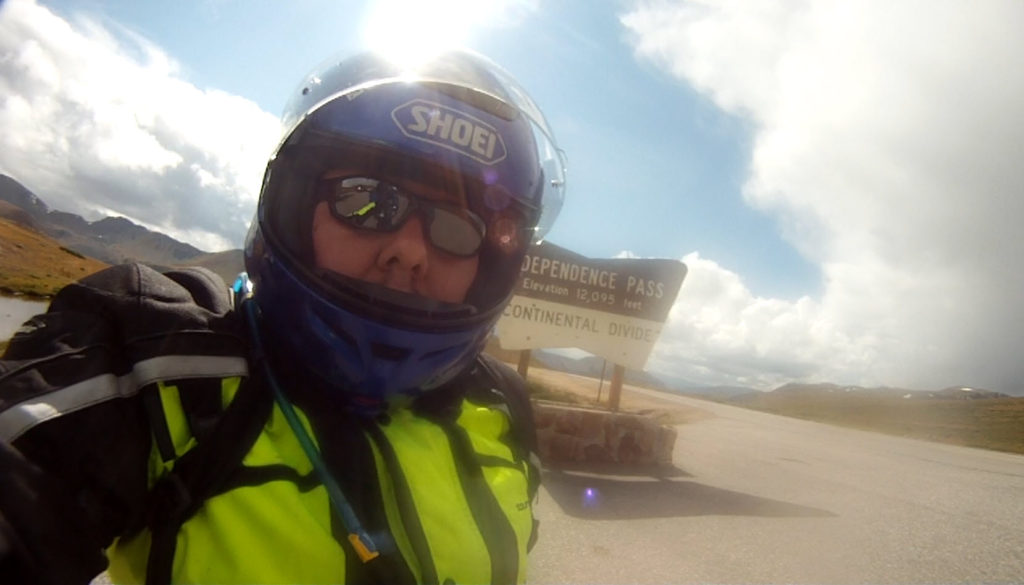 Overall this should be ~ 1900 mile trip averaging ~ 300mi a day, with some days being over 400mi.
SNOW! (update)
Turns out there is a storm/weather system moving in next week that could drop a good bit of snow over some of the mountain passes I am going over… so because the stock tires (Dunlop OEM D222s) are not that great in cold/wet weather, I ordered a new set of 90/10 (Road/Trail) rated tires that are supposed to be pretty solid on gravel roads I may be on and also handle rain/dustings of snow fairly well. Pirelli Scorpion Trail II's. This is the first non Michelin tire I have purchased for a bike! (I've had Pilot Road, 2,3 and 5s).

No one had these tires in stock in the area so I ordered them and hope they get in on time!
I have a little prep work to do on the motorcycle to get my system all sorted for the trip, but in general it should be an easy prep kind of ride compared to other trips. I will update/document as I get closer to the trip in a couple weeks.