In the last week or so I've been doing more passive planning than anything mainly because the weather / drama of 2020 is unending. Last week we had record heat, 101F in September, hottest day recorded in Colorado in Sept and it was raining ash on us Sunday and Monday from wild fires. 48 hours later we reset the coldest day in Sept, and broke a total of 12 weather records.
Denver ended up with 1″ of snow.. but 3 areas I am planning to ride through received 18 – 24″! They were skiing in deep pow just up outside of Silverton – my destination for the first night. When I saw that I knew my plans had to be flexible.
Also I've come up with a theory – the thing 2020 attacks the most consistently are plans. If you plan hard and fast for something, its almost assured that 2020 is going to fuck you. So I've purposely not booked any hotel stays yet, going to book them on the way on the trip a day out.
When to leave? What to pack? Is it Summer? or Winter?
When to leave? I watched CDOT cameras to see road conditions, looked at FB posts from ski hills, and watched weather closely. I was originally going to leave Sunday 9/13 but instead pushed it to 9/14 to let at least two full days of 60 – 70F weather bake those areas that were hit with snow hard to ensure the roads are just wet.
What to pack? The weather is overall going to be warm and sunny most of my planned potentially 8 day trip. With a few trips over the rocky mountains that will cause some cool rides. So far rain seems low chance, but if you've ever seen a video I've posted from this time of year… I always attract some solid rain storms. So it seems Summer is back, but I am excited for some early morning cool fall riding.
The Route?
It's the same for the most part, only audible I am going to call in the next day or so is and heading to Flagstaff instead of Winslow. It adds maybe 1hr total onto the ride, but I'm reading that Winslow, AZ doesn't seem to think COVID is a thing at best, or worse – that its a hoax. I am not digging staying in a town like that. Flagstaff seems to have their shit together to some extent… for now.
The Bike Prep:
New Tires and TPMS!
As I mentioned at the end of the last post about all this, I saw the weird weather and I my route will have ~ 30 – 90miles of gravel/dirt roads so I figured even though the OE tires have a lot of life left in them, I wanted some solid new rubber. After a lot of weighing options I chose to go with Pirelli Scorpion Trail II's. A 90/10 tread tire that is like a slightly more aggressive/trail ready sport touring tire. It is supposed to be great in cold/wet weather. Fun fact, these are the first non Michelin Pilot Road series tires I've purchased.
I pulled the wheels off the bike (using ratchet straps to a shackle I mounted in the ceiling years ago to hold the front up), and had them installed in a couple hours at a local shop.
I even added TPMS sensors and metal T valves to the wheels as part of this:
This is a Sykik SRTP300 setup. I 3D printed a small case so I could velcro mount the head unit on the bars and remove it when the bike is left overnight or to charge it. The Valves are Hawkshead T Valves, lets me adjust pressure easily while the TPMS sensors are still attached. From a bunch of tests these seem to be accurate ~ 2PSI, but are consistently 2PSI under my other gauges… so thats fine.
More 3D Printed bits
As I was going over what I need on this bike for a successful trip and to accomplish what I want, I realized I needed 2 things.
A Hide-A-Key
Small Tool to adjust the front forks easily on a trip
Ram Ball mount on the engine guard for a camera mount
Kickstand Plate
The Hide-A-Key is because I am always afraid of losing my keys on a ride. My last bike the side cases had a combination code hatch so I kept extra keys in one of them. This bike does not and EVERY lock on the bike is on the same single key.
So I found a secret little hiding place on the bike that I can access without a key and without special tools that I can hide a second key. I printed a small box for it to be secured in and the box is velcro'd to the super secret place. This gives me peace of mind. I have not posted this to Thingiverse yet, but will when I get back.
The Fork Adjustment tool – I made this tool a week or so ago after taking some quick measurements, my first design worked well, so I went right in after a first prototype and printed a bunch in Blue NylonG filament and sold a few to people in the Tracer community already.
The design is to make it easy to make preload adjustments and if you flip it you can adjust compression/rebound. After a suggestion from the Tracer forums I also added a lanyard hole. I posted the design on Thingiverse here: https://www.thingiverse.com/thing:4587999 I believe it will work well in PLA+, PETG, Nylon G/X, etc… Just no super soft filaments (and if PLA, keep it out of the sun or hot areas like under the seat).
Ram Ball Mount – If you've seen other posts of mine you know I do like to record a lot of video on trips. Well the new bike doesn't have much surface area for a suction cup mount, so I took an extra Ram Ball mount I had, and printed properly sized shims to let it lock onto the Givi motor guards on the bike.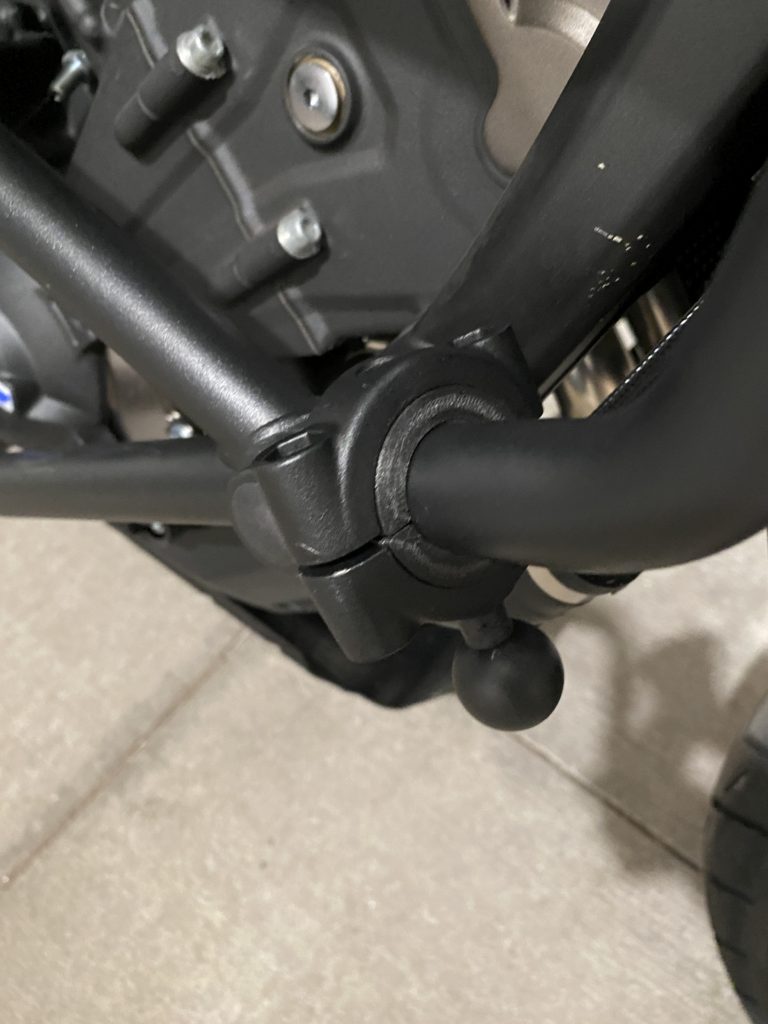 Kickstand Plate – I couldnt find my old kickstand plate for loose surfaces, and fresh asphalt. This bike leans pretty hard on the side stand, and when fully loaded is enough to make me worry about on muddy ground or fresh asphalt what would happen over time. So I spent 15min and designed up my own 🙂
Packing the Bike
This is one of those parts of a trip that is like Tetris mixed with gambling at a casino. Weighing the odds of what could happen, what you will need, and how much you are willing to suffer… vs How much you can carry and fit.
Fortunately the Tracers side bags are 1/2 the size of the bags I had on my Triumph, so that helps keep stuff lighter/smaller. The top case though is 50% bigger on the Yamaha than the Triumph with a similar max load weight of 11# (which is STUPID low…). Comparing the 2 packing jobs below:
So now I am not camping this trip, and that trip had a lot of camping gear in it. The Givi side cases on my Triumph were easy to pack, had a lot of room, and in general were awesome. The Yamaha stock side cases are… itty bitty things and very odd shapes.

I've repacked a few times now and I have it down so each side case is ~ 21# (under their max load rate of 22#), and the rear case is about 19# which is a bit above the 11# max load. But the same case, and same mount in Europe is rated to 22#, so I am guessing they are adjusting for the heft of Americans in this load limit.
The load is on for this trip is:
Rear Case: (Camera and easy access case)
Camera/Laptop backpack – same one I use on trips to Europe.
Sony A7RIII Camera
24-105 MM lens
12-24 MM Lens
Rain jacket
Floppy Hat
Sunglasses
Laptop (HP Spectre X360)
Maybe a snack or two?
Left Side Case: (Clothes Case)
Clothes (2-3 days worth, planning on doing laundry a few times)
Backpacking ultralight down Quilt (because of COVID I wont be using any hotel comforters)
Pillow Case (to cover the hotel one, just to be more cautious)
USB Chargers
Toiletries
More Snacks?
Right Side Case: (Utility, Mid Ride case)
Small bag of tools (basics I would need to repair simple things on the bike, including tire repairs)
First Aid Kit ( my backpacking first aid kit)
WD Passport 2TB HD (its heavy so I want it out of the top case) to offload SD card data through the trip.
Insulating layers (Wool base layers)
Riding Gloves (Insulated, and Wind/Water proof)
Sony 100-400mm Lens (this takes up more than 1/3 the case)
Small Tripod
Disinfecting wipes (for cleaning hotel stuff)
Extra surgical masks
an other random things.
Tank Bag:
USB Cables to charge devices on the route
Wet Ones, for clean hands after gas stations + they clean bugs off visors very well.
Lens Wipes
USB Battery
Advil
Tissues
MOAR SNACKS.
Garmin Inreach Mini when its not in my jacket.
I went for a test ride with the bike fully loaded and the Tracer seemed good with it. I've since cut the weight more and moved it to better locations so it should be good to go. I also threw a set of shoes on the back of the bike for now… not sure if I will keep them there or skip them… it depends on how much hiking I am planning on doing. I hate hiking or walking far in my riding boots.

I also found I can stuff an Aerostitch 12V tire pump in the bodywork under the rider seat!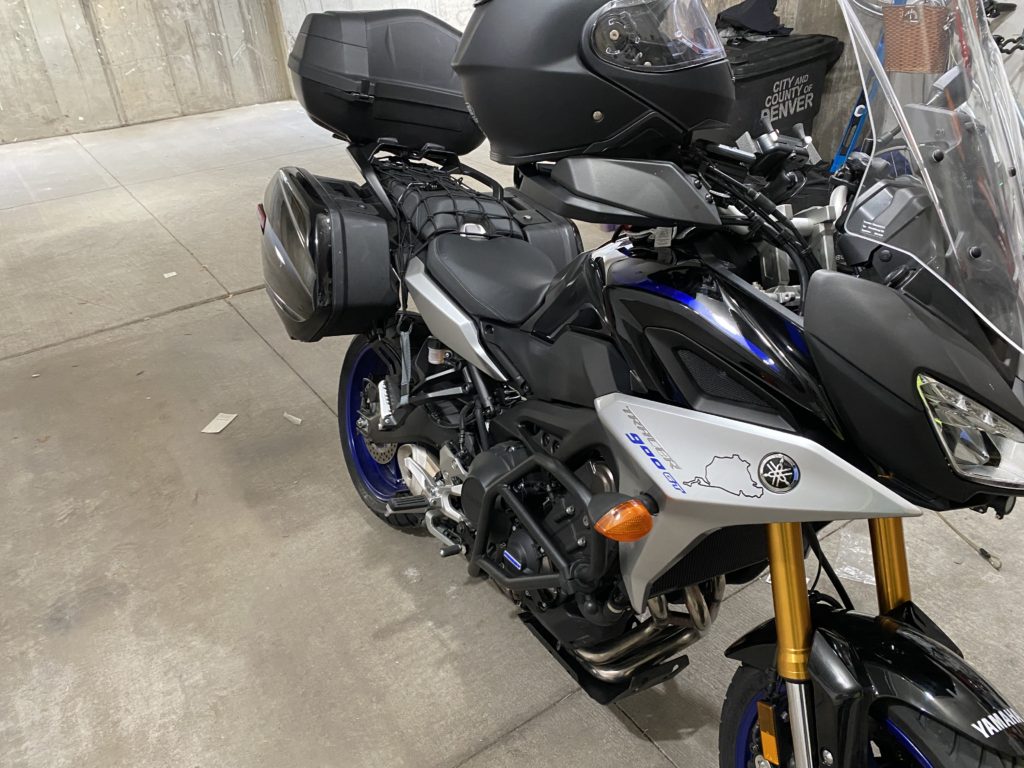 Final Countown
I am under 36 hours from when I am planning to leave, which leaves me time to completely repack the bike 2 or 3 times and stress over every detail. I am going to try and wrap this up and get everything on the bike that can go on for now on the morning of 9/13 and relax the rest of the day and just check weather updates and travel updates (ohh… and book a hotel in Silverton!)
The last route plans I had showed this to be right at 2000 miles of riding with the first 3 days all being 350 – 450 mile days, then smaller 150- 250 mile days.
Next update here should be from when I am on the road! –lata!